Articles and posts about carriage doors.
Why carriage doors make sense in a recession
- using space you own for a home business
The economy has been tough on families, the job market, and the construction industry. You'd have to be Rip Van Winkle during REM sleep not to have noticed that. In a recession, folks hunker down, defer major work on their homes, and live with what they have.
So why are people still buying authentic beautiful custom-made carriage doors? Not just well-off people dipping into their pots of gold, but ordinary people.
Authentic custom carriage doors make sense in tough economic times. There are several reasons. I'll touch on one of them here, and then more in future articles.
Carriage doors on a garage enable folks to turn an empty, cold, car-bedroom into a place that produces value for them. Out-swing doors free up the ceiling of rails and allow more flexibility with the space, while keeping the garage viable too.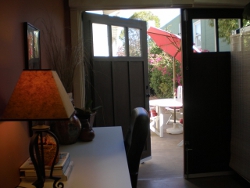 I've seen homeowners create a home workshop or office and move their small business into their garage. I started out that way myself, building carriage doors in my garage. Of course there are applications and permits involved in a home business, but it's still less costly than renting elsewhere.

Joe Simmons took a large workshop on his property in Arlington, Washington, and made it into a wedding chapel. The carriage doors were key in creating an outdoor wedding venue, which he calls Nature's Connection Place. Joe's beautiful property wasn't all it could be until he got the carriage doors.
It makes sense to incubate a business in a place you already own, rather than taking on an expensive lease while trying to find your market and establish cash flow. The extra hours required of the startup business owner don't have to take you away from your family. And the commute is sweet on your schedule and your wallet. That's a lot of dollars going right into your profit margin.
Does it make sense to start a company during a recession? According to research by the Ewing Marion Kauffman Foundation, more than half of 2009's Fortune 500 companies started during an economic downturn.
Why be Rip Van Winkle and sleep through the recession? What will be different when you wake up? Take a look at that garage of yours.
Next time we'll look at another great reason to install carriage doors during an economic downturn. Check back with us!
- Richard Hampton